White Label Form Builder:
Your Brand Needs It
Looking for a form building platform to match your brand identity? Try our White Label form builder for internal company usage, reselling, or to integrate with your own technology.
Clean. Simple. Efficient.
Why Need a White Label Solution?
Create your own form builder platform and reap the
following benefits:

Own Visual Identity
Personalize your forms with your logo, domain, fonts, graphics, and anything else you may think of. Our form builder will truly match your visual identity, from every point of view.
Personalized Forms
You can easily setup custom themes or templates packages to be used by your employees or your customers.
100% Individualized Support
You can either use our Knowledge Base and the expertise of our Customer Care Team or redirect support to your designated point of contact. Your brand, your choice.
Super Fast - 3 Days Setup Time
Our team can have your personalized platform up & running in just 3 days. Start working right away.
Three ways your organization
can take advantage of a White Label: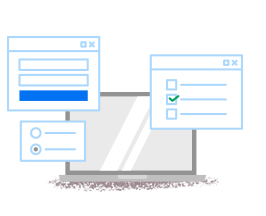 1.

White Label Form Builder for Internal Enterprise Usage

Nowadays, all companies collect, manage, and share vast amounts of data. Forms and surveys can be of great help in this respect. With 123FormBuilder, your form and survey building platform can be fully branded with the identity of your organization. Keep your stakeholders engaged and involved and allow them to use a familiar interface, for an effortless adoption of our tool.
2.

Repackaging or Reselling 123FormBuilder

The versatility of our platform can support your next business idea. Our partners are tailoring our solution for specific market niches. Define your audience, identify its needs and white label our solution so that your customers can reap all the benefits of a solid, easy to use tool. You are welcome to pivot our Swiss-army knife platform: use it for different departments of your company, regardless of the industry.
3.

Embedding 123FormBuilder into Your Own SaaS Product

Looking to add form building capabilities to your own SaaS platform? Building a drag & drop form building component is a costly choice. Instead, you can white label and embed our solution into your own, with seamless integration. We have experience in working with a variety of SaaS solutions, from CRMs to email marketing and project management tools. We would be excited to learn about yours!
123FormBuilder Platform - Built for Versatility
Check out the main features
123FormsBuilder White Label Form Builder Platform Documentation