Pickles
Onions
Tomato
Lettuce
Cheese

Stacking customer choices on top of each other is a great way to serve a burger.
But what if we could serve up customer choices in a way that's appetizing to CSV, Excel, Smartsheet, and other data munchers?
Say hello to the new Grouped Answers option!
Now you can specify how you'd like multiple-choice answers grouped:
New line (Default): Display each selected answer on its own line.
Semicolon: Separate each answer by a semicolon (;).
Comma: Separate each answer by a comma (,).
Tab: Add a tab after each selected answer.
Where to Find It
Submissions
Answers will display—delimited by their chosen group marker—in a single column in the submissions table.
Applications
Fine-tune your app integration! All answers within a choice field can go as a single piece of input to apps such as MailChimp, Smartsheet, or Google Drive.
Email Notifications
Previously, answer grouping was only available in the default email notification template. Even then you were limited to commas. Now you can have answers grouped by a new line, semicolon, comma, or tab in any of your custom templates.
This feature is available for all email interactions, including the submission confirmation, autoresponder, payment notification, and the optional PDF that comes with the submission notification.
Thank You Page
Grouped answers can now display on the form thank you page.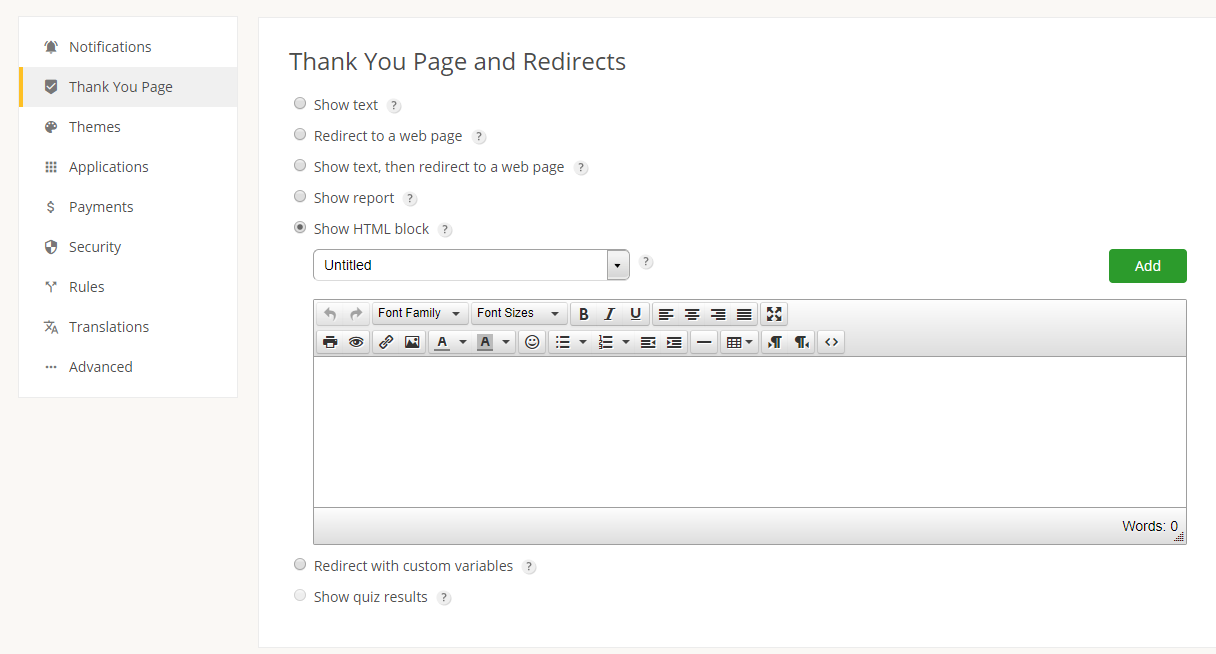 To display the grouped answers on your thank you page, click the Show HTML block radio button and select the multiple-choice field. The grouping marker (line break, semicolon, comma. or tab) will follow the setting used in the form builder.
Reports
If you are using the DataTable widget in your reports, grouped answers will now be included in a single column of the table.
We're excited to put this small-but-powerful feature to use soon and get even better results from your results!